North Atlantic Whales
These photos are taken on our whale watching trip out of Gloucester. Gloucester is the fishing capital of New England. Recall The Perfect Storm movie. We travelled with Cape Ann Whale Watch on their Hurricane II boat, which is real fast. Our trip was 35 miles northeast from Cape Ann down to Jeffreys Ledge.
We passed a few minke whale on our way to the further point of the trip. They were visible from a distance. Finally, the captain and the crew spotted a finback. It seems that finbacks are not inclined to let boats too close to them. His every dive brought him quite far from the boat no matter what position we were in before the dive.
After that, we went to a different location to watch humpbacks. As you see on the photos, they came quite close. I do not have 300mm lenses or something. What I used to make the pictures is a SLR with a zoom up to 115mm. The captain and the crew worked hard to make our trip a success. The tour lasted 5 hours even though it is advertised as 3-4 hour trip. Their educational program during the tour is great especialy for kids.
As opposed to other ports, two major whale feeding areas of the Gulf of Maine are accessible from Gloucester. It is important because whales are often spotted in only one of the two areas. These areas are Stellwagen Bank and Jeffreys Ledge - see map. Yes ... If you ever do whale watching out of Gloucester like us, do not forget to stop at one of Gloucester's seafood restraunts. You will find a plenty of them there.
One year later, we were on another whale watching trip again with Cape Ann Whale Watch. This time we saw finbacks from a closer distance. Click here to see more finback photos. To see more humpback photos from yet another trip, click here.
This is the only finback photo I have from this trip
The remaining photos are humpback photos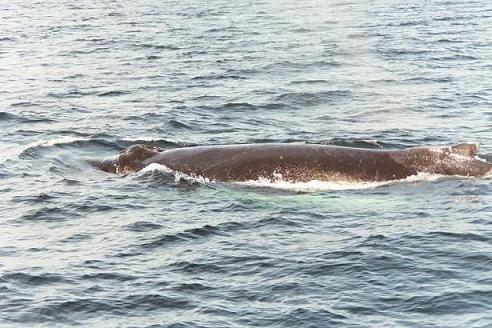 Finback Photos
Humpback Photos
Copyright (c) 2003 Alexander Sakharov