Ioann Bogoslov (St. John the Evangelist) Church
This is a small church situated right in the heart of Moscow downtown. It is located on Bogoslovsky Lane connecting Tverskoy Boulevard and Big Bronnaya Street: Address, Phone, etc. It is a surprisingly calm place given its proximity to major roads as well as to tons of office buildings forming the facade of the Russian capitol. It is also a famous church despite its small size. Bogoslovsky Lane and the neighborhood played a role in the life of many famous people.
Ioann Bogoslov church was originally built in 1625. The stone building that exists till now was constructed in 1652-1655. Tsar Mikhail Feodorovich gifted a famous icon of Ioann Bogoslov (St. John the Evangelist) to this church. The following web pages are devoted to the history of Ioann Bogoslov Church:
http://hram.codis.ru/?page=info&id=182
Церковь Иоанна Богослова на Бронной
Церковь Иоанна Богослова на Бронной
Храм Иоанна Богослова на Бронной. Москва.
Церковь Иоанна Богослова на Бронной
Церковь Иоанна Богослова в Бронной слободе
Why this church?
Piotr Sakharov, who is the father of my grandfather, served as a deacon at Ioann Bogoslov church until the church was shut down by the communist government after the revolution of 1917. His family owned an apartment in the house on Bogoslovsky Lane right across from the church so that windows in the apartment face the church. A part of that apartment belonged to one of Piotr's sons till early nineties. I remember staying there at my relatives' apartment when coming to Moscow from St. Petersburg on numerous business and leisure trips. At that time - under the communist regime - the church did not look as nice as it does today. During the Soviet era, it was used as a storage facility. The Soviet government did not spend much money on repairing it. Starting from 1992, it is a Russian orthodox church again.
Photos of Ioann Bogoslov Church:
full photo
full photo
full photo
full photo
full photo
These photos are hosted on http://hram.codis.ru. This site has information about Moscow churches and their photos. They even have a 19-th century photo of Ioann Bogoslov Church:

full photo.
Thanks to http://hram.codis.ru for the icons.
Below one can see my own photos of the church. They were taken in the 80s when the church still was in a typical state for the Soviet era.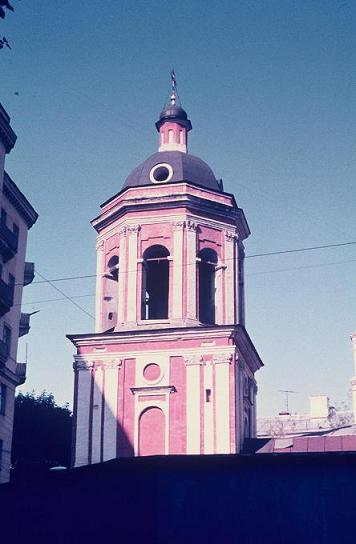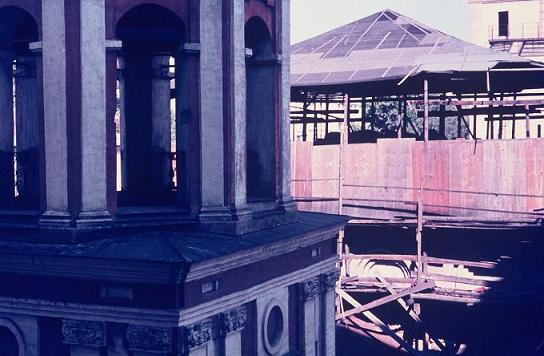 Need to relax? Try brain teasers. I would recommend those marked 'cool'.
Copyright (c) 2008 Alexander Sakharov