Attitash
Review and Photos
Virtual Descent down Illusion trail of Attitash
Virtual Descent is a new and unique feature of this site. Virtual Descent presentations allow you to experience the thrill of going down a snowy slope right here without leaving your computer.
November 2008
Definitely a premiere NH skiing destination. It would be more as crowded as Loon and Waterville, were it closer to the metropolitan Boston area that is the source of majority of people skiing in New Hampshire. Extra 40 min or so of driving from the Boston area makes Attitash less attractive for weekend trips. Attitash consists of two distinct but interconnected ski areas/mountains: Attitash and Bear Peak.
On one hand, the area around these ski mountains still posesses a NH rural charm in contrast to many other destinations closer to major highways. But on the other hand, Attitash is just 15 minutes away from North Conway where actually many skiers stay for the nights. This town preserves Christmas spirit throughout the winter. A bit of warning about early season when temperatures are still warm: Attitash elevation is lower than some other destinations in NH. Even though Attitash is located on the north side of White Mountains, slopeside temperatures may be a little higher than for other more elevated ski resorts. As a result, their snowmaking time may be more limited.
Out of the two peaks, Bear Peak is my favorite. In particular, two trails are excellent: Illusion and Avenger. The former is marked black, the latter is marked double black. Both are wide, usually well-groomed. And do not recall seeing huge crowds on either of them. Avenger is a little rougher as one can guess. It is better for challenging yourself. Illusion is great for cruising and enjoying the life. See it on the Virtual Descent page. If you want to show your companion how good you are at skiing, take this run and do it here. You also can relax and let your kids and your friend kids get involved in a micro speed competition on Illusion without worrying too much about them going overboard and ending somewhere on the other side of some edge. Well, I cannot be kept responsible for this as an advice because it is not. You have to know your children abilities etc and be responsible for own decisions.
There is a hi-speed quad lift taking you directly from the bottom of these two trails - Illusion and Avenger - to their top. If you ski these two, it is very efficient in terms of use of time. Normally no long lines at this lift even during the February school vacation week. Most skiers will be exhausted by the end of the day when engaged in this routine. I prefer ski one of them, then the other and so on and so forth. Due to constant change in the venue, skiing there is not boring.
Now to Attitash, the bigger and more populated with skiers peak. A lot of narrow picturesque trails there. It is just a quintessential New Engralnd skiing. Many options for cruising down at a low speed and enjoying the scenery. Also, there are some challenging narrow trails like Tightrope. IMHO, there are a couple of jewels like Idiot's Option. Because this trail is in the middle of a pretty flat run, most skiers travelling down there avoid it due to its marking as double black. In fact it is a decent trail, it is wide, the quality of snow is usually great because not many skiers go through it. You may end up being the only person on the trail.
| | |
| --- | --- |
| | |
| | |
| --- | --- |
| | |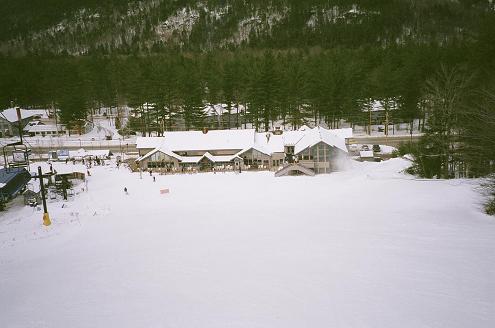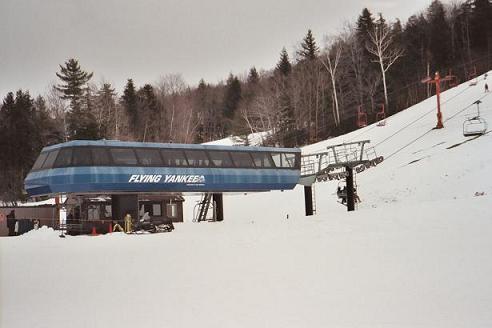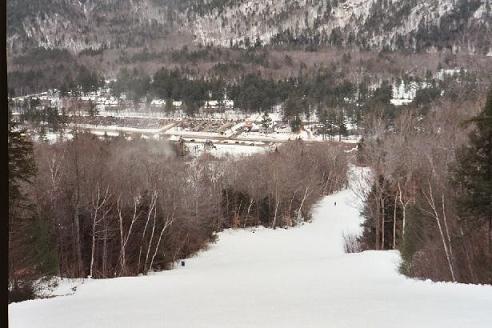 Back to New Hampshire Junior Skiing or Adult Skiing including
Waterville Valley Photos Mount Sunapee Photos Loon Photos Wildcat Photos Bretton Woods Photos Cannon Photos Gunstock Photos Cranmore Photos Crotched Mountain Photos
Another New England skiing destination: Sunday River
See also Park City including
2004 World Superpipe Championship Photos Park City Mountain Photos The Canyons Photos Deer Valley Photos
And Tyrol Skiing including
Kitzbuhel Photos Stubai Glacier Axamer Lizum Photos
Copyright (c) 2004, 2005, 2008 Alexander Sakharov