March 2003
Talk to New England skiing snobs and they will never even mention Waterville Valley. Out of New England skiing resorts, you might hear about destinations like Sunday River and Killington but not Waterville Valley. It is not cool. Discussing the pros of skiing in France is cool, but having fun going to local New Hampshire's skiing resorts on a weekend with your kid is not.
Unlike Sunday River and Killington, Waterville Valley does not strike you with numbers or gigantic sizes. But the matter of fact is that Waterville Valley is an excelent destination for a family skiing trip for a weekend or an extended weekend from Boston unless you care about more terrain acres which you would not be able to cover over the weekend anyways.
First of all Waterville Valley is located in the middle of White Mountains National Forest. It is surrounded by miles and miles of forest without any presence of humans. Coming there is like a Christmas journey of your childhood. You drive through the woods and out of sudden you are in a small village that is too nice to be real. Due to lack of human habitat in the area and higher elevation comparing to other neighboring skiing resorts, the taste of air is fantastic. And it is free.
The village of Waterville Valley is built around a ski resort and does not bear other purposes. Everything you need while on vacation is there and is close to the place you stay no matter which hotel/condo you choose. You will not see any artifacts of your city life around. Everyone you meet is in the same mood of a skiing vacationer.
The center of the village is Town Square. You will find a food store there. It is not of the size of a typical supermarket but selection is pretty good. A few restaurants located on Town Square give several options in terms of tastes and budgets. Of course, do not expect McDonald's. It is a NH ski resort after all.
Waterville Valley logo at the entrance to Town Square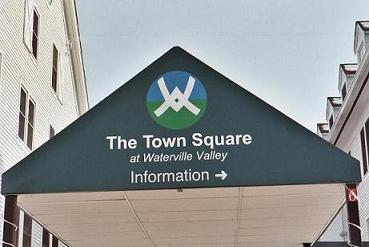 As far as dining is concerned, there is a place that stands out - Wild Coyote Grill. It is located in the Athletic Club building. It is a casual place but the food is great. Try their steak, you will not be dissapointed. I believe Wild Coyote Grill is a famous place too. At least, one can see a collection of photos with VIP guests on the walls there. Neglecting to make a reservation at Wild Coyote Grill in advance is a bad idea.
Waterville Valley slopes may be crowed on a weekend but surprisingly you do not have to spend too much time staying in lines. Two high-speed quads move the crowd up fast. They both located right in front of the base lodge. One of them called Quadzilla moves those skiing the green terain. And the other lift brings everybody on top of the mountain Tecumseh. One can ski blue, back, and double black slopes from that point. Regardles of variations in the levels of skiing ability in your family, there is a high-speed lift for everybody. A few other lifts also help move the crowd.
When I decided to go to Waterville Valley for the first time, my decision was based on the availability of a high speed lift serving exclusively green terrain. At that time, I knew little about NH ski resorts and used brochures to make a selection. This lift caled Quadzilla is an essential advantage if you think of teaching your kids to ski. I have been through my son's learning process, and it all has happened here at Waterville Valley. Now my son is seven years old. He is a solid skier. Now I enjoy that best period when we ski together. I guess I have little time left to keep up with him. Quadzilla is not important any more to us. Still we always take the first ride on Quadzilla.
The base lodge has all typical facilities. Joe Jones sport shop located by the base lodge belongs to a local chain. The selection of equipment and clothing is darn good there. Pricewise it is less competitive than Ski Market but reasonable deals pop up in the spring. So, if you forget to bring gloves or a hat, you are all set. If you forget to bring your child's jacket, your feelings will be dependent on the depth of your pocket. The demo center (I believe it is asociated with the sport store) offers virtually all major brands. It is a remarkable progress compared to the previous year.
The children ski programs offered at Waterville, I guess, like most schools focus on keeping kids happy. Hot chocolate drunk at the Sunnyside Lodge in the middle of a lesson is something children remember. As far as making sure that your children learn to ski well is concerned, it is parent's responsibility to figure out what to do about it. In my opinion nothing substitutes for yourself being in the driver seat while on the slopes with heirs.
About the terrain: If you are an expert, you have to go onto the south side of Tecumseh: Ciao, Gema, and True Grit. Ciao and Gema are black and True Grit is double black trail but only a part of True Grit is steeper than the other two trails. As far as the east side of the mountain is concerned, it is all solid blue unlike Loon where blue usually means green. Do not be confused that some of the slopes on that side are marked black. The difference is minor. If you like wide trails like me, try And Tyler Too continuing to The Boneyyard. Do not forget to explore trails close to White Peak lift to find your favorite. Valley Run trail served by Quadzilla is an excellent green one. Stillness trail next to it is marked blue but it is just another beginner trail. Note that moguls and their respective trails are fully left out of this review - they are not in my realm. Well, I guess I should consult my son on this topic.
Down the Ciao trial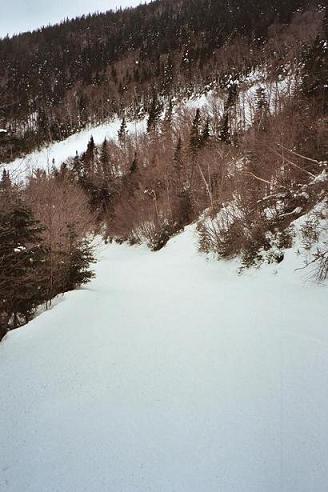 Most critique of Waterville Valley I read was about grooming. First, remember that in New England, one has to expect some ice on slopes. Two primary reasons are New England weather and the number of skiers. Second, it is really difficult to compare unless you ski two different mountains in one day or two consecutive days. From my recent experience, Mount Sunapee seems to have better grooming than Waterville. Also, we skied one day at Watervile Valley and the next day at Ragged last March. Conditions at Waterville were ideal. Ragged Mountain was icy top to bottom. I do not know ...
Another advantage of Waterville Valley is that bad weather is not really that bad there. You can go to an indoor ice skating arena or swim in a 25-meter pool. You know, if you plan a three or four day skiing trip in New England, you'd better plan for one day of a bad weather. Skating and swimming combined will take care of a day. The skating arena usually offers 2-3 sessions of public skating daily - check their schedule. The 25-meter pool is located in Athletic Club. It is open throughout the day till late.
The resort offers cross country skiing facilities, and usually cross country skiers can be spotted in the village and in the woods around at village. I would say the entire village is cross country skiable.